Europeana 1914-1918 Centenary Tour Finale Transcribathon
Congratulations to the European Transcribathon Champions: Susanna Ralaimaroavomanana and Marta Teristi (Team Rome) and the runners-up: Vineta Blitsone and Anastasija Smirnova (Team Riga), and Ioana-Roxana Orza and Andreea Pop (Team Cluj)!
From 27 to 28 November 2018, an international Transcribathon was held in Brussels as part of the concluding celebrations of the Europeana 1914-1918 Centenary Tour. Hosted at the House of European History, this very special event managed to bring together winners from previous Transcribathons all across Europe for a spectacular transcription challenge! The participants were devided in teams and they had to compete against each other in a two-day sprint to transcribe and annotate specially-selected documents.
A jury of renowned historians and digital humanities experts was responsible to judge the results of individuals as well as teams in various categories of achievement. Winners were awarded special prizes from the European Commissioner for Digital Economy and Society, Ms. Mariya Gabriel.
---
As part of the Europeana 1914-1918 Centenary Tour Finale, the competition was accompanied by an exciting line-up of presentations, round table discussions, performances and exhibitions on the theme of commemorating World War One. All parts of the event were open both to invited guests and to the general public.  More details on the Centenary Tour Finale can be found here.
Centenary Tour Finale Programme
Day 1 - Tuesday 27 November 2018
13:00 Opening ceremony & introduction
14:00 Start Transcribathon
18:00 - 19:30 Round table #1:
Reflecting World War One Remembrance: What have four years of centennial commemorations achieved?"
Panel members:
Kieran Burns, Curator, House of European History, Belgium
Virginia Crompton, CEO, Big Ideas, United Kingdom
John Horne, Historian, Trinity College Dublin, Ireland
Chantal Kesteloot, Historian, Centre for War and Contemporary Society (CegeSoma), Belgium
Moderator: Jonathan Even-Zohar, history consultant, The Netherlands
Day 2 - Wednesday 28 November 2018
09:00 - 13:00 Transcribathon
11:00 - 13:00 Round Table #2:
From the Trenches to the Web: Commemorating WW1 the digital way. Panel members:
Ylva Berglund-Prytz, Academic IT Services, University of Oxford, United Kingdom
Irina Mastan, librarian, County Library George Baritiu Brasov, Romania
Serge Noiret, History Information Specialist, European University Institute Library, Italy
Marianne Ping Huang, Associate Professor, Aarhus University, Denmark
Markus Wurtzer, IFK_Junior Fellow Abroad, European University Institute, Italy
Moderator: Ad Pollé, Senior UGC Projects Coordinator, Europeana Foundation
Keynote: Prof. Lorna Hughes (UK), Professor in Digital Humanities, Univ. of Glasgow & Europeana Research Chair.
13:45 - 14:35 Team Presentations
14:35 - 14:55 "11-11: Memories retold" video game presentation
14:55 - 15:00 Welcome by Constanze Itzel, Director House of European History
15:00 - 15:15 Welcome and introduction by Harry Verwayen, Executive Director Europeana
15:15 - 15:30 Speech by Petra Kammerevert, MEP / Chair Committee on Culture and Education
15:30 - 16:00 Speech by Commissioner Digital Economy & Society Mariya Gabriel
16:00 - 16:15 Presentation of Europeana Research Grant winners by Lorna Hughes
Progress

Top Teams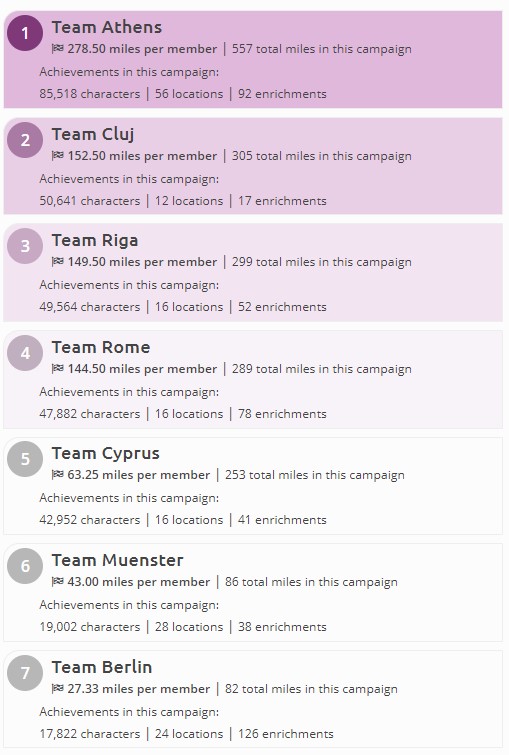 Top Transcribers