Manuscritos no palco
Manuscripts on Stage
Transcribathon: maratona de transcrição de textos cénicos do Teatro Nacional D. Maria II, Lisboa
Concurso de transcrição de textos cénicos da coleção digital do Teatro Nacional D. Maria II (TNDM II), disponíveis na Europeana.
Durante 7 dias os participantes são desafiados a transcrever o maior número possível de documentos manuscritos.
O evento decorre inteiramente online, utilizando a plataforma Transcribathon, devendo proceder-se a inscrição prévia em EventBrite. No final será atribuído um prémio ao concorrente vencedor.
Esta iniciativa decorre associada à Conferência da Europeana sob a Presidência Portuguesa do Conselho da União Europeia e às das comemorações dos 175 anos do TNDM II, estando aberta à participação de todos os interessados (inscrição em EventBrite).
Organização: Biblioteca Nacional de Portugal, TNDM II, Europeana e Facts & Files
Preparados? Mãos à obra!
Manuscripts on Stage is a week long Transcribathon of manuscripts from the collection of plays of the Teatro Nacional D. Maria II (TNDM), Lisbon, Portugal.
This initiative takes place in the context of the Portuguese Presidency Europeana Conference and the celebrations of the 175th Anniversary of TNDM II.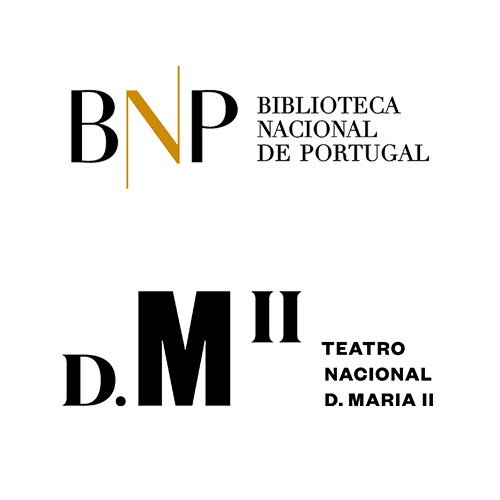 Coleção de textos cénicos do Teatro Nacional D. Maria II
A coleção de textos cénicos do Teatro Nacional D. Maria II é constituída por mais de 10 mil títulos manuscritos, dactilografados, alguns impressos e nado-digitais. Encontram-se integralmente digitalizados e acessíveis em linha 280 exemplares, maioritariamente do século XIX.
O conjunto de manuscritos em destaque diz respeito a peças apresentadas no Teatro Nacional D. Maria II no seu período inaugural e constitui uma pequena amostra dos primeiros anos de atividade deste Teatro, representando a dramaturgia portuguesa da época, assim como alguns autores estrangeiros e, ainda, uma peça órfã. Desta seleção releva uma predominância da dramaturgia portuguesa e francesa dos séculos XIX e XX, com especial destaque para exemplares de textos cómicos. Pelo número de peças existentes destacam-se autores como Ernesto Biester, Eugène Scribe, Lopes de Mendonça ou António Abranches.
Esta seleção contempla também peças apresentadas no Theatro da Rua dos Condes (1843-45), que ostentou o título de Teatro Normal antes da inauguração do novo edifício, na Praça do Rossio, no dia 13 de abril de 1846, durante as comemorações do 27.º aniversário da rainha Maria II (1819-1853) , data a partir da qual o Teatro passou, por isso, a exibir o seu nome na designação oficial. Mas as designações do teatro mudaram ao longo do tempo: de Theatro de D. Maria Segunda passou, em 1853, a Theatro de Dona Maria II e, já no século XX, a sua designação é alterada duas vezes: em 1910, a República denominou-o Teatro Nacional de Almeida Garrett e, em 1926, a ditadura militar recuperou o nome da monarca na designação que assume até hoje, passando definitivamente a Teatro Nacional D. Maria II.
As prophecias do Bandarra, peça levada à cena em 1846, no Teatro Nacional D. Maria II, é uma comédia de enganos, inspirada na obra As trovas de Bandarra, de Gonçalo Eanes.
Almeida Garrett, escritor e político do século XIX, foi uma das figuras mais proeminentes e importantes do seu tempo, tendo contribuído decisivamente para o aparecimento de um teatro (e de um repertório) em Portugal, a edificação de um Teatro Nacional e a criação da Inspeção-Geral dos Teatros e Espetáculos Nacionais e do Conservatório Geral de Arte Dramática.
Entre 1836, data da criação legal do teatro, e 1846, data da sua inauguração, o já existente e decrépito Teatro da Rua dos Condes ostentou a designação de Teatro Normal, reivindicando o estatuto de teatro nacional.
Um par de luvas, farsa lírica de José Maria da Silva Leal, foi uma das peças apresentadas no espetáculo pré-inaugural do Teatro Nacional D. Maria II. O edifício ainda se encontrava em fase de conclusão, mas abriu portas no dia 29 de outubro de 1845, um ano antes da sua inauguração oficial, para festejar o aniversário de D. Fernando, príncipe consorte de Portugal. A peça, da autoria de José Maria da Silva Leal, tem uma componente musical muito presente, com uma parte escrita em verso e também para coro. O autor privou de perto com Almeida Garrett e com o escritor Alexandre Herculano, militando, também, no movimento literário do romantismo, que se vive nesta altura em toda a Europa.
Maria de Beaumarchais, peça de autoria desconhecida traduzida do francês por João Baptista Ferreira, foi apresentada no Teatro Nacional em 1846, ano da sua inauguração. Esta peça constitui um exemplo típico da época, pois era habitual, nas traduções, omitir-se o nome do autor e, por vezes, o título traduzido não correspondia ao original.
João Baptista Ferreira foi um dos mais prolixos tradutores, tendo realizado traduções para peças apresentadas no Teatro da Rua dos Condes, no Teatro do Salitre e no Teatro Nacional D. Maria II. Além de ter estudado medicina e ter exercido a profissão de tabelião, João Baptista Ferreira foi um liberal convicto, motivo que o levou a fugir do país aquando das perseguições dos absolutistas, em 1828.
Muito próximo de pessoas como Almeida Garrett, este tradutor imparável escreveu ainda para o jornal Atalaia Nacional dos Teatros.
Quem Tudo Quer Tudo Perde, apresentada no Teatro Nacional D. Maria II, em 1846, da autoria de José da Silva Mendes Leal. O autor, filho do pianista com o mesmo nome –e, por isso, assinava também como Mendes Leal Júnior – iniciou os estudos com o intuito de viver uma vida eclesiástica por influência de um tio, mas a adolescência traz-lhe outras vontades e decide seguir o seu próprio caminho. Granjeou uma fama considerável como escritor e dramaturgo. Numa época em que o vaudeville ou a comédia despertavam um grande interesse junto do público, Mendes Leal privilegiou o drama sério, vendo as suas peças apresentadas nos principais teatros de Lisboa. Da sua biografia destaca-se ainda o facto de ter sido presidente da Biblioteca Nacional de Portugal e Grão-Mestre da Maçonaria.
O Galucho ou Gloria e amor é uma peça de Antoine-François Varner, autor francês do século XIX. A tradução desta comédia é anónima, tendo sido utilizada no Teatro Nacional D. Maria II em 1846.
Varner, ocupado entre a política e a religião, foi um comissário de guerra na tentativa de invasão da Rússia por parte de Napoleão Bonaparte, tendo mais tarde assumido uma posição de destaque no clero. A sua ligação à igreja é interrompida com a Revolução Francesa.
O seu género predileto foi o vaudeville, tendo assinado dezenas de obras, algumas das quais em parceria, destacando-se as peças que escreveu em conjunto com Eugène Scribe.
1 111 042
Total Characters
| | | |
| --- | --- | --- |
| | 01/06/2021: | 98687 |
| | 02/06/2021: | 269372 |
| | 03/06/2021: | 441413 |
| | 04/06/2021: | 611605 |
| | 05/06/2021: | 743944 |
| | 06/06/2021: | 884252 |
| | 07/06/2021: | 1138826 |