History in Your Hands
Dublin City University Library Run
Lester, one of Ireland's foremost diplomats, became High Commissioner in Danzig (Gdańsk, Poland) in 1934, during a period of increasing Nazi activity in the city. He returned to Geneva in 1937, and was appointed Deputy Secretary General of the League of Nations in 1940, remaining there until the functions of the League were replaced by the United Nations in 1946.
The collection contains diaries kept by Lester from 1935 to 1942. During the Second World War he buried the diaries in a metal case near the League of Nations headquarters in Geneva, Switzerland. After the war ended, Lester retrieved the case and returned with the diaries to Ireland where this collection was subsequently donated to DCU Library by Patricia Kilroy and Ann Gorski, daughters of Seán Lester.
Lester's personal papers cover his years as a High Commissioner of the League of Nations in the Free City of Danzig (now Gdańsk) in the mid-1930s, and subsequently his time in Geneva during the League's remaining years. The diaries bear witness to Ireland's commitment to European and international affairs. Now these papers can be transcribed during the Lester Seán Run, taking place from October 2023 to February 2024.
History In Your Hands is a Dublin City University Library, Ireland, project which will be delivered to second level students from local secondary schools around Dublin.
The project is structured around teaching second level students how to plan, research and write their research study as part of the Irish Leaving Certificate in History.
During the course of this project, the students will learn critical thinking, research and collaboration skills. They will learn how to plan, structure, research and write a historical research study. As part of this process they will learn about archives, preservation and digitisation and work together to transcribe important historical documents from DCU Library's holdings. DCU Library has been publishing its collections with the Digital Repository of Ireland since 2021 and also aggregating these collections so they are discoverable on Europeana. Resources for each class will be provided in an online guide that can be accessed as an open educational resource for students completing their Leaving Certificate History Research Study Report (RSR).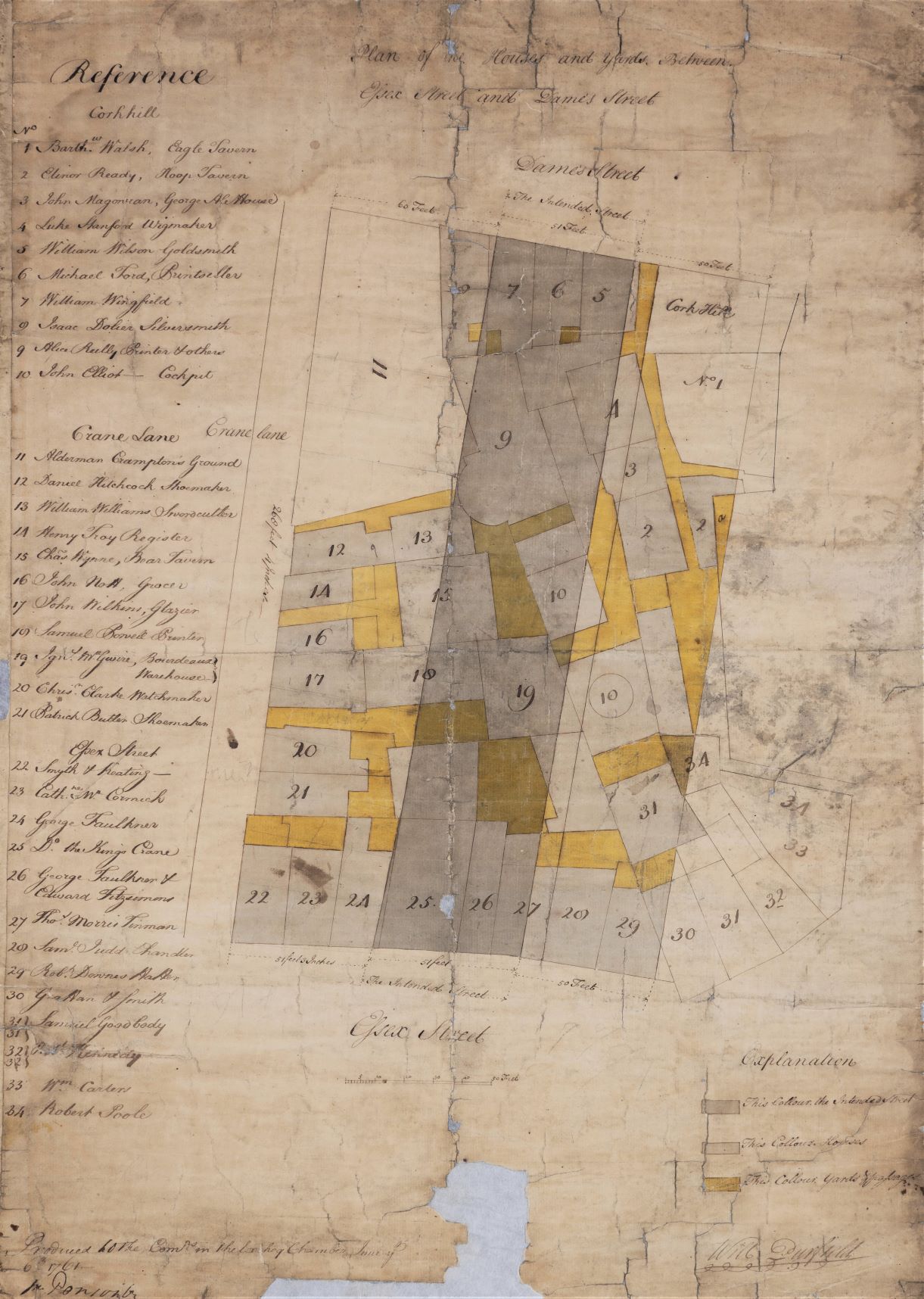 The Wide Streets Commission re-designed medieval Dublin (which was built along a west-east axis) replacing it with a city aligned along a north-south axis, with streets following mathematically-straight lines. The Wide Street Commission Collection includes minute books, architectural drawings, jury books, and manuscript maps. It details the City as it was, what it became, and includes details of what it could have been had different decisions been implemented.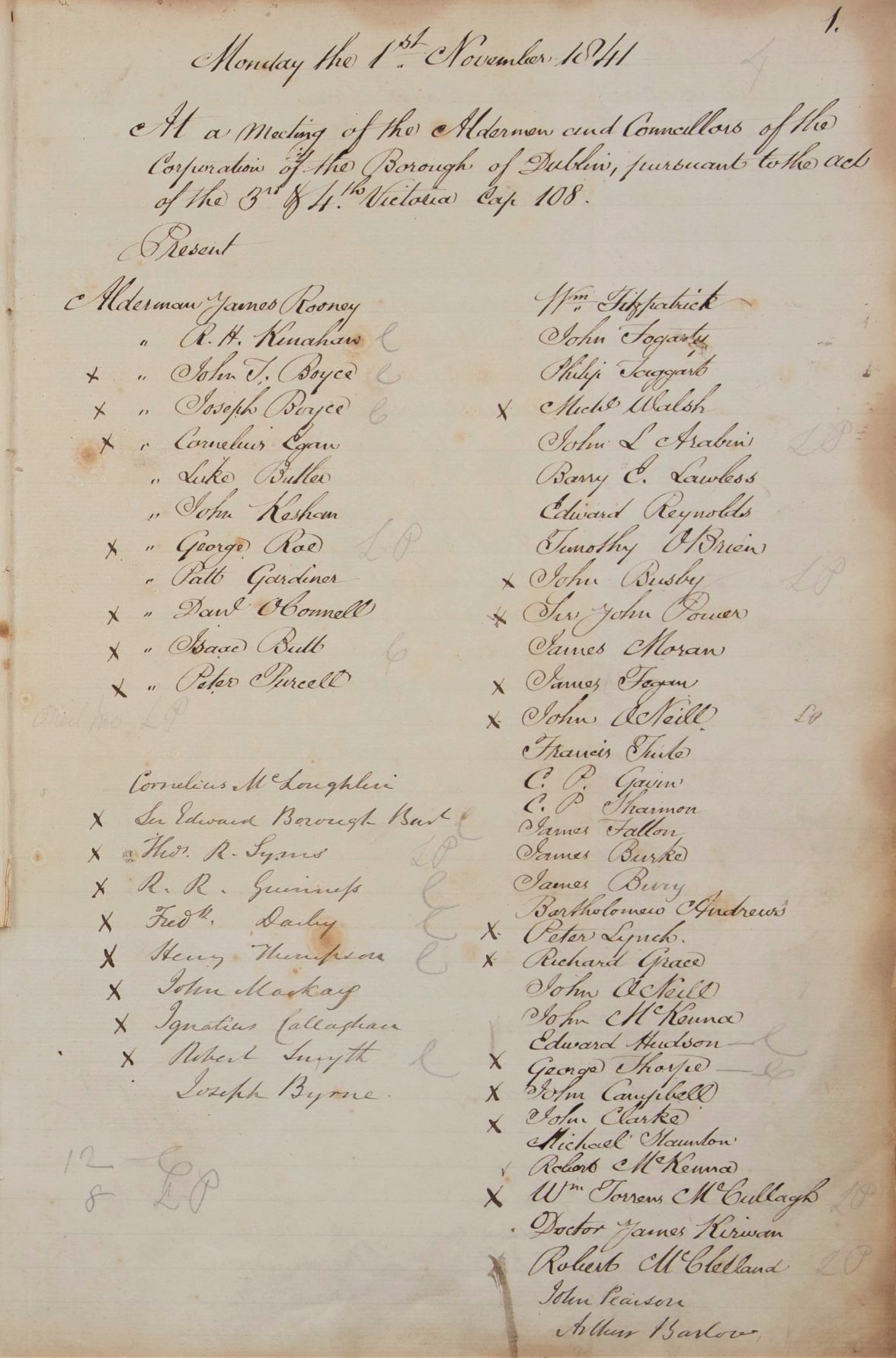 The elected Dublin City Council (DCC) was established in 1840.  Although the franchise was confined to property owners it was wide enough to cross the religious divide. In 1841 Daniel O'Connell, 'the Liberator', became the first Catholic Lord Mayor in over 150 years.
The DCC held its meetings on the first Monday of each month.  Notes were taken by the Town Clerk of Dublin and by his assistants, and these were worked up into minutes of meetings that were entered into large bound volumes which were then painstakingly indexed by the clerks.